God's Masterpiece Press Release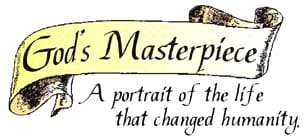 Fall in love with Jesus all over again as you are surrounded on all sides with this artistic, emotional retelling of the life of Christ, from His humble birth to His triumphant ascension. 
God's Masterpiece is a 90-minute "flashback" of the events leading up to the crucifixion, narrated by the three women who visited the tomb on that first Easter morning. It combines stirring arrangements of traditional hymns with original music by composer, Keith Ward, that capture the intense emotional journey made by the disciples and the awe-struck men and women who witnessed His teaching, His miracles, His suffering, and His triumphant resurrection. 
This captivating script by Cora Alley, moves naturally through the staging of five artistic masterpieces, as actors hold their pose for a moment, then move on with the story. Marvel at the "living" recreation of Leonardo Da Vinci's "Last Supper," Michelangelo's "The Pieta," and more. God's Masterpiece captures the volatile political tension between the Jewish religious leaders and Jesus, brought on by the frenzied enthusiasm surrounding the Messiah. It puts the famous "I AM's" of Jesus in context as seven disciples become participants in their own narrated "flashbacks," where Jesus made such revolutionary statements as "I AM the resurrection and the life." Relive the events that altered our world forever; celebrate Jesus, God's Masterpiece at:
(Show times & location)

Download the "God's Masterpiece Press Release"