The "Prologue" of God's Masterpiece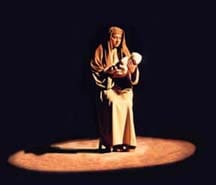 The "prologue" is twenty-four "frozen pictures" made up of human statues (tableaus), that "preview" the events of the life of Christ, from His humble birth in Bethlehem to His triumphant ascension. Stirring music and inspirational narration ushers each human "tableau" along as the lights come up, then gently fade out, on picture after picture of "tableaus" scattered throughout the set.
The audience will turn their heads in all directions, as they take in these rich pictures that promise to lead them on an inspiring, emotional journey. At the end of the "Prologue" the actors enter to the music of "Here He Comes," and the play beings with "The Triumphal Entry of Jesus."
Enjoy The Prologue Soundtrack!
Turn your audio on. Click the play button on the "Prologue Soundtrack" player below; the Prologue soundtrack should begin automatically.  
At the beginning of the soundtrack, you will hear a brief rendition of "I Love To Tell The Story," and then, the opening narration begins. When you hear the narration, scroll down through this page and follow the audio reading as you progress through the visual scenes. Enjoy! 
.
"Prologue Soundtrack" Player
The "Prologue" of God's Masterpiece